Reminders as we start our onsite classes
TRACK/FOOTBALL FIELD
Is off limits during brunch and lunch, please do not go beyond Overbeck Lane.
FALL CREEK is off limits during school hours 7:30-3:30. This includes the outdoor amphitheater and all trails leading into the park. Only teacher-led class groups may walk into the park with their class and teacher supervision.
NO LOITERING IN THE PARKING LOT
The parking lot is closed before school and during school hours for any loitering. Any questions check with Wendy or Jave.
NO LOITERING ON THE SLVHS CAMPUS
The comprehensive high school campus (SLVHS) is closed during school hours (7:30-3:00) with the exception of meeting friends for brunch, lunch, lunchtime activities, attending a class, and after school for club meetings and sports.
CLUB DAY
Attention Students. This year's Club Day is being held on Friday, September 21st on the main lawn at SLVHS at lunch
Upcoming Volunteer Opportunity Looking for Volunteer Hours? On September 15th, there will be a river & road clean up at 9 am to help clean up the river and roads. See Charlotte in Counseling for locations in Felton, Ben Lomond and Boulder Creek! All Volunteer Hours count towards the President's Volunteer Service Award!
FIRST ALL STUDENT ADVISORY Attention all students. Your first all student Advisory Meeting is Friday, September 7, 10:00-12:00. Meet in the garden to be divided into the classrooms. Check you Advisory calendar in Schoology for all upcoming meetings.
NOT REGISTERED IN POWER SCHOOL YET? Teachers will be handing out to students this week written directions with passwords for each family. Please ask your teen about this. Copies of your directions will also be kept in your teens' student file.
AFTER SCHOOL THEATER ARTS
Below is a list of After School Performing Arts opportunities available to All students in every program of our charter. 
If you have any questions about any of these dates, feel free to email Amber Walker  
awalker@slvusd.org
.  
Rehearsals
When: Thursdays: 
Oct.4 and Oct. 18
 and Fridays Oct. 12 and 
Oct. 26 from 3-4:30 pm
Where: Multipurpose Room on the Quail Hollow Campus (up by the Charter Office)
No need to sign up ahead of time. Just show up.
This event was founded in 2006 in Toronto and has now spread to six continents. Every October people in cities around the
world
dance to "Thriller" at exactly the same time.  Preparation and counting down worldwide is part of the fun, but the feeling of being connected to others and dancing together as one is a
Thrill
like no other!  Celebrating the truly inspirational genius of Michael Jackson in a living and moving way is what keeps people coming back year after year.  
This year the event will be held in Santa Cruz on 

Saturday, October 27, 2018,

 at the Louden Nelson Center lawn at 

3:00 pm

 sharp. There is also an option to perform in a flash mob on Halloween in Ben Lomond.
All Charter Musical: Into the Well!: An original rock musical
Last year we had a great turnout with 64 students from each and every program in our charter participating.
Amber will have an informational meeting on 

Tuesday, Oct. 9 at 3:00 pm

 for students and parents. The meeting will be held in the multipurpose room at the Quail Hollow Campus.
You will get a synopsis of the script, hear about characters and musical numbers, and get detailed info on the rehearsal schedule/requirements.
This year the play will be, "Into the Well". Once again, it will be an original script written by Janinne Chadwick, which Amber directed and choreographed in 2008 with LPRT (Little People's Repertory Theater.) This story incorporates fairy tale characters from many different stories such as Little Red Riding Hood, Snow White, The Frog Prince, Goldilocks, Jack and the Beanstalk, and many more with a Giant singing Bob Dylan tunes, punk-rock huntsman, and runway models gone awry! Music ranges from Motown, funk, pop, punk, and good ole' rock n' roll.
Come to our meeting to find out more details!
Auditions: 

3-5:30 pm

, Mondays/Tuesdays, Oct. 15, 16, 22, 23 in the multi-purpose room on the Quail Hollow Campus
Rehearsals: 

3-5:30 pm

, Mondays, and Tuesdays
Performance Week: 
February 4-9
SLVHS PRODUCTIONS
Auditions for SLVHS Student-Directed Play Coming Soon!
A-HAUNTING WE WILL GO by Tim Kelly.  Directed by Nicolas Payne & Jennifer Rodriguez
Auditions for the play will be held on 
August 27 and 28
 at 
3:00 p.m.
 in the HS MPR.
Callbacks will be held on 
August 29
.
*Come with a 1-2 minute dramatic or comedic monologue, no Shakespeare. 
Tech People are also needed! Please come to one day of auditions to sign up and register.
THIS MONTHS NOVEL RECOMMENDATIONS
Inspired and recommended by a recent TED Talk ~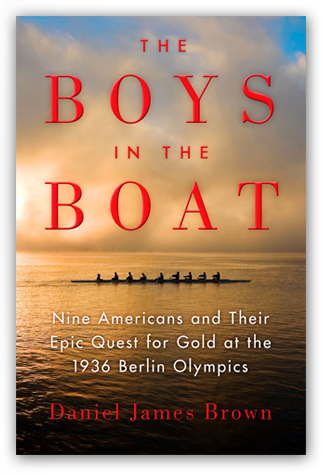 "The Boys in the Boat" may be the only historical non-fiction book I couldn't put down; it was as gripping as my favorite novels. It left me completely in awe of the tenacious team of rowers who prevailed when no one expected them to. Their incredible determination and focus are inspiring. This book makes you feel like you're right there on the boat with them the whole way.
   Why should you read "One Hundred Years of Solitude"? 
Lesson by Francisco Díez-Buzo, directed by Silvia Prietov
Gabriel García Márquez's novel "One Hundred Years of Solitude" brought Latin American literature to the forefront of the global imagination and earned García Márquez the 1982 Nobel Prize for Literature. What makes the novel so remarkable? 
Francisco Díez-Buzo investigates.
Headwaters Outdoor School Trip

DEADLINE: Friday, August 31 - SPECIAL EXTENSION UNTIL FRIDAY, SEPTEMBER 7
Brian and Wade will be taking 15 of our Coast Redwood High School students to Headwaters on Monday, September 24 through Friday, September 28. 


What is Headwaters? 
Headwaters Outdoor School website
At 
Headwaters Outdoor School
 in Northern California, near Mt Shasta, where the staff teaches primitive skills Earth People have used throughout time to survive in kinship with the Earth. Skills include Wilderness Survival, Tracking, Edible and Medicinal Plants, Nature Awareness, Earth Philosophy and many others.
We are excited to bring our students to Headwaters in the fall and make it an annual tradition. Marcy's program at the 
CR Middle School has taken a journey to Headwaters as well as the Nature Academy whose 6th-grade students make an annual trip with their teacher.
Students who are interested will be required to attend 3 Friday "conditioning workshops" on Friday, September 7, 14 and 21st. Brian and Wade will be taking students to Castle Rock, and two other parks nearby in order to prepare them for Mt Shasta's environment.


Parent Chaperons are welcome and we may need drivers! Cost $300.00 per adult

Sign-up being taken right now, closing Friday, August 31. Contact Brian for a sign-up form.


Cost: $375.00 per student includes transportation and all meals $375.00

Fundraising: Immediately in the fall we will begin our Toyota Drive for School (September) 
Transportation: Vans and cars

Shakespeare Festival in Ashland Oregon Trip

Kay and Amber are bringing back our annual trek up to Ashland Oregon to enjoy 3 nights and 4 days in Ashland, Oregon. 
Students will stay at a local hotel and enjoy 6-8 plays and workshops over three days. A visit to Southern Oregon 
University will be on our itinerary where we 
will 
visit their theater program and explore the campus.
Parent Chaperones are welcome and we may need drivers!

Sign-up being taken right now. Contact your teacher for a sign-up form. 

When: May 2019

Cost: dependent on our transportation arrangments but plan on raising $450.00 per student. 
Typically this trips' costs come down to around $350.00 dependent on transportation costs.

Hotel: students are arranged four to a room to keep cost down.
Transportation: Vans and cars. If we have enough students attending we will look into a charter bus.

Deposit: 
$150.00 due in late September
.
Fundraising:
Immediately in the fall we will begin our Toyota Drive for School (September)and volunteers for the 
Redwood Mt Faire (June)

Pre-requisite: Enrollment in "Chill with Will" one semester class prior to the trip

COLLEGE AND CAREER INFORMATION
ATTENTION COAST REDWOOD STUDENTS 
Begin collecting your EXTRA CREDIT points by attending the College & Career Night.
More to come from your teachers!
PSAT TESTING IS COMING
On 

October 10th

 we will be having the PSAT Test!
All Sophomores will be taking this test free and will get information in their classes soon.
Juniors are highly encouraged to take the test as scores count towards scholarships.
Cost for Juniors (and any Freshman) will be $20 and includes a study guide.
Details on how to sign up will be coming in the next few weeks, so stay tuned.
VOLUNTEER OPPORTUNITIES HAVE BEGUN!
Volunteers Needed! Mountain Parks Lobster Feed Clean Up - 
October 14th
When: 

Sunday, October 14th from 10 am to 1 pm

Permission Slip is Needed: Click Here and bring to the SLVHS Counseling Office before 

Oct. 9th

Help out with the aftermath of the Lobster Feed (Which is on 

Oct. 13th

) and gain Volunteer Hours!
This is a Volunteer Hours Opportunity! You need to be sure to turn in your hours to Kay Mendoza after the event.
COLLEGE REPS COMING TO SLV AT LUNCH-MEET ON THE LAWN
Upcoming College Rep. Lunchtime Visits
On these dates, representatives from specific colleges will be here at Lunch to talk to our students!
September 19th

 - Oregon State University

October 9th

 - University of Montana

November 1st

 -  Soka University of America
College Application Reminders
October 1st

: 
CSU, Cabrillo College and FAFSA Applications Open
November 1st

: 

UC Applications can begin to be submitted



November 30th

:

 Deadline for all UC & CSU Applications
How am I going to Pay for College?! Presentation
As the cost of going to College is rising, how are you going to pay for it?! On Wednesday, September 26th at 6:30 pm, we will be having a special presentation from a local financial advisor on learning about the different ways you will be able to pay for college. Sign Up in the SLVHS Counseling Office or 
click here to RSVP
!
     Stay connected by visiting our Coast Redwood High School Facebook page

Sierra Nature Prints Studio – 2018 Fall Classes: 
Need an art class for credits? Here is a local and incredible opportunity
Free GED Preparation
The Watsonville/Aptos/Santa Cruz Adult Education Department will be offering a free GED preparation program at the SLV district office building on 325 Marion Avenue in Ben Lomond throughout the academic school year.  (Please see attached flyer.) This course is for adults, age 18 and older, who want to receive their high school equivalency.
Preparation Program for Students Studying for the GED and the HiSET Equivalency Test.
An individualized course of study based on assessment, schedule, and goals will be designed for each student enabling students to pass the GED exams while improving their skills for college or career training. Courses are offered in teacher-directed classrooms with a blend of online, direct and individualized instruction. Online distance learning may be available in combination with classroom instruction.
CRHS Community Service Requirements = 15+ hours each school year
Don't Wait. Hours must be completed by the end of April 2019 and submitted with your memoir/portfolio!
Be a Cabin Leader
The Santa Cruz County Outdoor Science School is seeking energetic and responsible high school volunteers throughout the school year to serve as Cabin Leaders to small groups of 5th and 6th-grade students. Each Cabin Leader is paired with a Naturalist who they assist on the trail and during field studies. Cabin Leaders help ensure the student safety during daily activities and overnight in the cabins. All Cabin Leaders participate in Training the first and second day of the program before students arrive. Cabin Leaders arrive at 4 pm the first day of the program week and are dismissed at 12:00 pm on the final day program. 

Earn Community Service hours in one week (One week will complete your CRHS 15 hours of Community Service)
OPTION: Earn 3 college credits by enrolling in ED80, an Education & Service Learning class at Cabrillo College. The course is free for high school students and can be taken in person or online.
Gain skills in Leadership and Risk Management during Cabin Leader Training
Have fun working with 5th and 6th-grade students at the Outdoor Science School
Apply Today - First, speak with your Supervising Teacher to determine a week that will work for you.
Find a week that works for you and your school.
Download the Cabin Leader Application
Complete each section of the application before moving on to the next.
Complete Applicant Information and Questions.
Have a teacher, administrator, coach, or employer who is not a family member write a brief Reference Letter.
Have your Parent/Guardian complete the Service Learning Permission Form.
Have your teachers and school administrators sign the Service Learning Permission Form.
Email or fax your completed application to the Cabin Leader Coordinator.
Accepted applicants will receive an email with a Registration Packet. You must reply to this email confirming you will attend in order to reserve your place. The Registration Packet must be completed and returned via email or fax at least two weeksprior to the program. 
How to Earn 3 College Credits from Cabrillo College
Students receive 2 college credits for EDUC 80, and 1 credit for EDUC 80L during which students volunteer for one week as a Cabin Leader.

EDUC 80 is a lecture course that provides a general introduction to educational theory and practice. The course can be taken at Cabrillo College in Aptos or online. The on-campus lecture is 2 hours a week, and the online class is organized by modules. This class is worth 2 college units.
EDUC 80L is the Service Learning component to EDUC 80. High school students satisfy the 56 volunteer hours during one week of service as a Cabin Leader at the Santa Cruz County Outdoor Science School. This class is worth 1 college unit.

High school students must enroll in EDUC 80 before their service week as a Cabin Leader, to receive credit. To apply, students need to complete a Concurrent Enrollment application and return it to Cabrillo College Admissions by email at webreg@cabrillo.edu. The deadline to enroll is October 1st and the course will begin mid-October. Questions regarding EDUC 80 can be directed to the course instructor, Professor Mary Soltis by email at masoltis@cabrillo.edu. The course is free for high school students, however, students will pay a small registration fee. More information about EDUC 80 can be found here. 

SLV Foundation for Education is Raising Money for our Schools
San Lorenzo Valley Foundation for Education is a 501(c) (3) non-profit organization. We provide an easy way to support a broad or specific tax-deductible donation to the SLV schools and clubs. One can donate directly to any of the groups listed below, without needing to buy or sell products. For more information or to donate, please visit slvfoundation.org
*Coast Redwood High School *Nature Academy *Music Boosters *Art Boosters   *Drama Boosters *SLV High School Cougar Club *High School Stadium Lights *Patron of the Arts *Middle School Panther Club   *BCE parent club   *SLVE Bobcat Club
Pick your favorite or help them all!
If you or someone you know are energetic, hard-working, and committed to the idea that our students deserve the absolute best opportunity to excel that our community can provide, then please consider joining as a leader of the SLV Education Foundation. Questions – contact George Wylie, 338-0578 or georgewylie@yahoo.com.


Fund Education / Charter Programs
In response to students and members of our community who are highly allergic to fragrances and scents, the

SLVUSD

Board of Trustees adopted a California School Board Association policy to make all

district classrooms 

and offices fragrant neutral.

CRHS has parents and/or students with

respiratory issues who can have negative reactions to fragrances.